Veterans United Home Loans Amphitheater | Virginia Beach, Virginia
Classic rock fans can clearly see that the hottest tour of the summer is Def Leppard's 20/20 Vision Tour, coming to Veterans United Home Loans Amphitheater on Wednesday 23rd September 2020! The almighty rock band is a mainstay on the touring circuit, with sell-out shows full of screaming fans singing along to their anthemic tunes, year-upon-year! This year, the Rock and Roll Hall of Fame inductees will be joined by bearded blues-rockers ZZ Top, making a dynamic duo of hit-makers that are perfectly suited to making a crowd go wild!
"What a year this is going to be! First, sold-out stadiums, then we get to go on tour with the mighty ZZ Top! Having been an admirer of the band for a lifetime it's gonna be a real pleasure to finally do some shows together…maybe some of us will get to go for a spin with Billy in one of those fancy cars," says Def Leppard frontman Joe Elliot.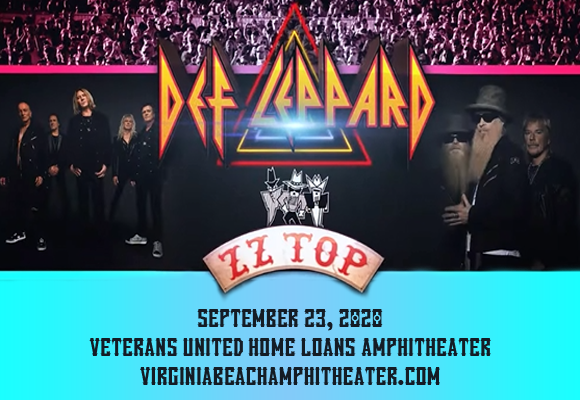 One of the leading proponents of the new wave of British heavy metal, Def Leppard is one of the world's best-selling music acts of all time, having sold over 100 million albums worldwide. The group was formed in Sheffield, England in 1977, and has had the steady line-up of Joe Elliott (lead vocals), Rick Savage (bass, backing vocals), Rick Allen (drums, backing vocals), Phil Collen (guitars, backing vocals), and Vivian Campbell (guitars, backing vocals) since 1992. High 'n' Dry (1981) served as the band's initial breakthrough album, helped by the popularity of the lead single, "Bringin' On the Heartbreak," and its video, which was one of the first played on MTV in 1982. This led the way for their follow-up, Pyromania, which was certified diamond (10× platinum) in the US. The band's 1997 album, Hysteria, was even more successful, going 12-times platinum and launching seven hit singles: "Love Bites", "Pour Some Sugar on Me", "Hysteria", "Armageddon It", "Animal", "Rocket", and "Women". The success of Pyromania and Hysteria made Def Leppard one of only five rock bands with two original studio albums selling over 10 million copies in the U.S. Over the years, the band has continued to tour and record – their most recent album being a self-titled LP released in 2015. The group was inducted into the Rock and Roll Hall of Fame in 2019.