Veterans United Home Loans Amphitheater | Virginia Beach, Virginia
ROCK Legends, GODSMACK and STAIND have just announced a co-headlining tour that will embark on a HUGE 25-city trek that will start off on JULY 18 at the Hollywood Casino Amphitheatre in St. Louis and make its way down to its final destination, the Germania Insurance Amphitheatre, on AUGUST 31st. The last time these two ICONIC groups shared a stage was in 1998 and that was super-awesome. NOW LISTEN UP CAREFULLY!!! Mark out this date on your calendar: JULY 21st 2023 because right here and now is your chance to grab your tickets for the show at the Veterans United Home Loans Amphitheater. All you have to do is head up on this page and click the "GET TICKETS" button to secure your place at what will BE the only HARD ROCK concert you will ever need to attend for this entire year. Like they say, there is no time like NOW! So do it before another fan beats you to it!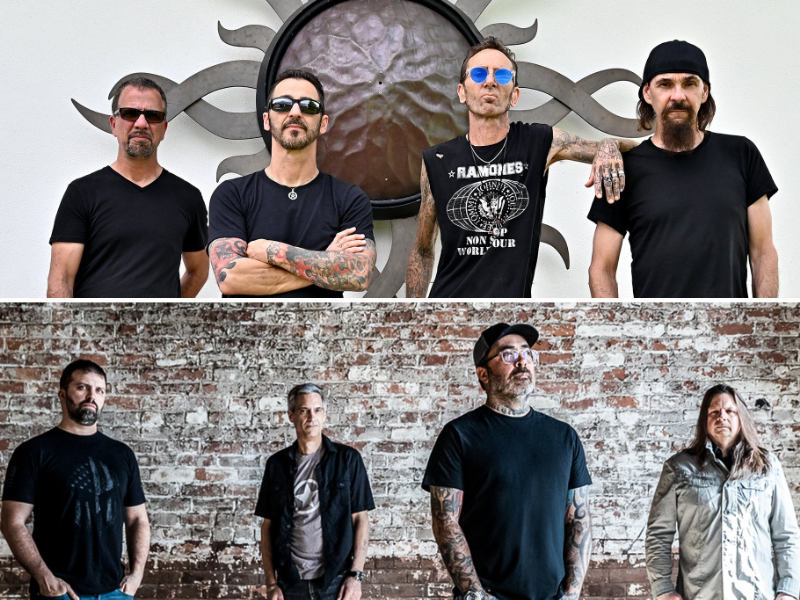 When it comes to HARD ROCK, there is only one name in the game that gets the job done, and that is GODSMACK. The band originally came together in 1995 and has been enormously successful to the point where they have released THREE consecutive number one albums on the Billboard 200, which are FACELESS, IV, and THE ORACLE.
FEBRUARY 24th 2023 was a bittersweet date indeed because this superb band has released their brand new album, LIGHTING UP THE SKY but unfortunately it will also be the last one they ever produce, as Sully (the band's lead singer) revealed on 93X Radio with Pablo. Luckily, they're on tour, so you have that to look forward to as well as the new album. Either way, one thing is for sure: these guys have been on one helluva run, and that is something nobody can deny.
Godsmack's sound has been described as HARD ROCK, POST-GRUNGE and NU METAL and their live performances are legendary, which is why this tour is going to sell out incredibly fast.
STAIND pronounced (STAYND) are known for their pretty magnificent POST-GRUNGE sound and will join GODSMACK on this tour as co-headliners. They started in 1995 and found commercial success with their album, DYSFUNCTION which reached the #1 spot on BILLBOARDS HEATSEEKER CHARTS and made it all the way up to NO. 74 on the BILLBOARD 200 ALBUM CHARTS. The album produced three singles, JUST GO, MUDSHOVEL and HOME.
Their 2001 BREAK THE CYCLE album went on to become 5x platinum and presented one of the most played songs in modern rock radio history, called IT'S BEEN A WHILE. They would go on to produce an unbelievably PROLIFIC SEVEN studio albums and EIGHT top 10 singles which resulted in over 15 million album sales.
YOU can expect to have an unforgettable time as these two ROCK ICONS take the stage and light up the city with their astonishing performances. So be sure to snag your tickets right NOW by clicking the "GET TICKETS" button up above. It will be the best thing you do all year!!!