Veterans United Home Loans Amphitheater | Virginia Beach
It's a triple whammy of woman-led, powerhouse rock 'n' roll as headliners Heart bring special guest support acts Joan Jett and the Blackhearts & Elle King to Veterans United Home Loans Amphitheater on Sunday 11th August 2019 on the Love Alive Tour!
"…Joan we have known for a long time," Ann Wilson said. "We have hung out and appreciated each other's music onstage and off." She added "…and Elle King is my favorite new artist. She has so much soul and attitude! We are so thrilled to host all these artists on the 'Love Alive' tour."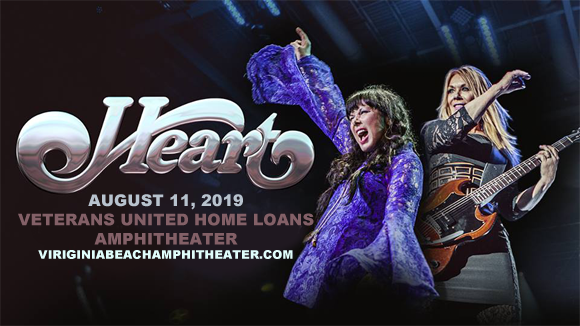 With a string of top ten albums over a span of four decades (the longest for a female-fronted group), American rock band Heart has sold more than 35 million albums worldwide since its inception in 1973, with over 22.5 million in album sales in the U.S. Throughout the band's career, its most recognisable and consistent members have been sisters Ann Wilson (lead vocals, flute and guitar) and Nancy Wilson (guitar, mandolin and vocals), and Heart has been recognised as the first female-fronted hard rock band. A huge success both critically and commercial, and a radio staple over several decades, the band has released 20 top 40 singles (including "Alone", "Barracuda", "Crazy On You" and "These Dreams", among others) and seven top 10 albums to date. Heart has been nominated for four Grammy Awards to date, and was inducted into the Rock and Roll Hall of Fame in 2013.