Veterans United Home Loans Amphitheater | Virginia Beach, Virginia
No other concert tour title is more apt for a country artist than Jason Aldean's 'Back in the Saddle' tour 2021. It speaks volumes on how Jason Aldean missed being onstage, bringing live music — and for his loyal fans, the feeling is mutual. The air of country music may be everywhere, but nothing beats the bliss of listening and basking on Aldean's effervescent energy performing "My Kinda Party," "Dirt Road Anthem," "Take a Little Ride," "A Little More Summertime," "Drowns the Whiskey," to name a few of his best-loved hits. Now get back on the saddle as Jason Aldean rides down to the Veterans United Home Loans Amphitheater on Thursday 5th August 2021, for an evening of revelry. With just a few clicks starting with that 'Get Tickets' section on this site, start to lock in and book your tickets now.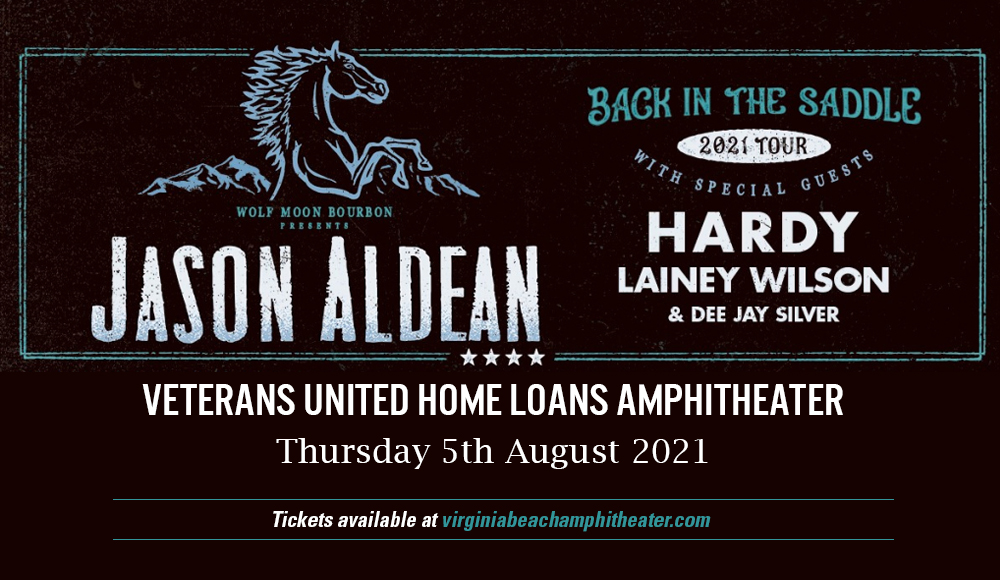 Jason Aldean is back in business! His 'Back in the Saddle' tour 2021 has kicked off, a rush of positive and thrilling emotions flooded the concert venue.
"It's been emotional being back on stage with my band for the first time in a year this weekend," shared Aldean. "It's made us all even more ready to get back to life as we all know it. Being on the road makes all of us – the band, the crew and me – happy and I haven't felt this excited about going on tour in 15 years;" gushed Aldean as he continues saying: "I had a feeling on stage last night that I don't think I've felt in the last 15 years. It was (like) doing something new again, for the first time. And, I think when you do this stuff as much as we do, it's easy to take it for granted a little bit."
Jason Aldean is a bona fide country music star whose career is illuminated by a constellation of hit songs, music awards and recognition. Out of a total of 35 singles to date, 22 are certified number ones on either the Hot Country Songs or Country Airplay charts. His 2010 album, "My Kinda Party", is certified quadruple-platinum, in addition to the double-platinum certification for his album "Night Train", plus platinum merits for his self-titled album, "Old Boots, New Dirt", "Wide Open", and "Relentless". Aldean has been the recipient of four Grammy Award nominations, winning twice for Best Country Album.
If you're looking for an all killer, no filler kind of show, then this is the concert to beat. And with a little help from his friends Hardy & Lainey Wilson Jason Aldean's Veterans United Home Loans Amphitheater show Thursday 5th August 2021, will definitely be a blast. Don't miss it!