Veterans United Home Loans Amphitheater | Virginia Beach, Virginia
How are you keeping up with the pressing pace of life these days? Well, it's high time to reset your body clock, boost your energy, and uplift your spirits with the power of country-pop music via Keith Urban's "The Speed of Now World Tour". This electrifying demi-god who charmed his way into the hearts of many with his virtuoso guitar playing, his suave and captivating voice, and not to mention his magnetic sex appeal, has dropped a personal invitation on social media to check out his much-awaited return to the live concert stage. "NORTH AMERICA, we're ready to get this thing out of my backyard and onto a REAL STAGE !!! THE SPEED OF NOW WORLD TOUR is coming to you in 2022! We're bringing the incredible @IngridAndress (singer-songwriter Ingrid Andress) along for the ride and it's gonna be a blast." Catch Keith Urban at the Veterans United Home Loans Amphitheater on Sunday 14th August 2022. Book your tickets now!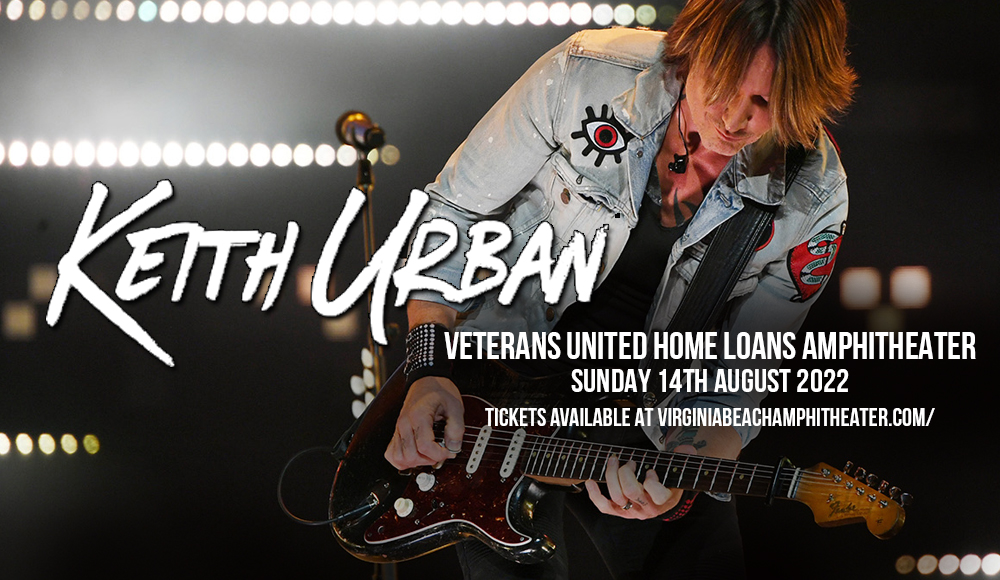 That gorgeous smile. Those luscious golden long locks. His signature shirt and jeans…then when he straps on and plays his guitar and sings his biggest hits like "It's a Love Thing," "Your Everything," "Where the Blacktop Ends," "Somebody Like You," "You'll Think of Me," "Raining on Sunday," "Who Wouldn't Wanna Be Me," "Days Go By," "Making Memories of Us", and engages the crowd with his mesmerizing voice and enthralling showmanship, without a doubt, country pop-rock superstar Keith Urban is best seen, heard, and experienced live on the concert stage.
"I've always considered myself a live performer first," Urban said in a statement. "It's what I've always done and it's what my music needs to live and breathe. Our shows are all about living in the moment. They're a totally interactive and immersive experience where everyone can participate in whatever way they want — sing, dance, do whatever."
This Australian-American musician, singer, guitarist, and songwriter has made a name for himself from the land down under, to country music capital Nashville, and to the rest of the world. Urban made his solo American debut in 1999, hitting number one on the Hot Country Songs chart with "But for the Grace of God" and was certified platinum by the RIAA. Keith Urban's discography includes a total of eleven studio albums, with 37 singles on the US Hot Country Songs chart, and 18 of which went to number one. Keith Urban has four Grammy awards to his name, all for Best Male Country Vocal Performance. He won it in 2006 for "You'll Think of Me," in 2008 for "Stupid Boy," in 2010 for "Sweet Thing" and in 2011 for "'Til Summer Comes Around." Urban has also built a career on television, being a coach on the Australian version of the singing competition The Voice 2021 and as a judge on American Idol.
Expect the unexpected, but prepared to be blown away with Urban's explosive and spontaneous live showmanship on stage, especially now that he's unleashing new songs for the first time on the concert stage.
"Every night is the first time we've played these songs for that audience, in that moment," Urban said via a statement. "It's why every show is different – spontaneous and unpredictable – even for us!" He adds, "After two years we're finally gonna get the chance to play some of the new songs we haven't done live before. We'll throw in a bunch of the songs that everyone comes to hear, a couple of which we'll rework a bit, and it's really gonna be tough to get us off the stage."
Keith Urban is definitely not-to-be-missed. Hurry, book your tickets now!