Veterans United Home Loans Amphitheater | Virginia Beach, Virginia
'It's about that time to 'shake it off! Coming to you live on stage is the world-renowned children's pop ensemble, KIDZ BOP. The kids are kicking off a new "Never Stop Live Tour" this 2023, bringing today's biggest pop hits to the live stage, for the whole family to enjoy. KIDZ BOP Never Stop Live Tour is taking over Veterans United Home Loans Amphitheater on Friday, 11th of August 2023. Get ready to sing along to your favorite hits such as "As It Was", "About That Time", and "Anti-Hero" led by kids, for the kids in an ultimate concert experience. Make sure to save the whole family those seats by booking your tickets now!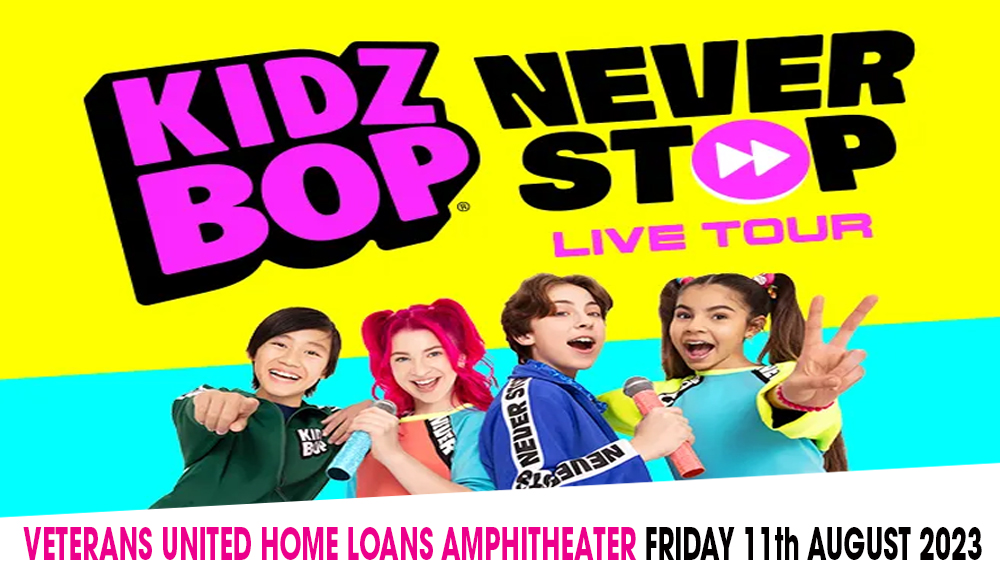 As mega-pop hits dominate the industry, the kids aren't missing out on the live concert experience as KIDZ BOP brings today's pop hits from different artists to the live stage. With songs re-made to be suited for the little ones, KIDZ BOP has taken over the industry since its launch in 2001. Having sung and performed catchy pop tunes remastered for the little ones, including Dua Lipa's "Levitating", Kesha's "Tik Tok", Taylor Swift's "Anti-Hero", and Harry Styles' "As It Was", the young ensemble is set to serve bigger shows this time around.
Following a big tour comeback last 2022, KIDZ BOP is setting the stage once again with a brand new "Never Stop Live Tour" this year. The extensive summer trek will perform in multiple cities across the country. KIDZ BOP Never Stop Live Tour is produced by Live Nation, as they work together to serve the ultimate concert experience for the whole family.
The tour promises new production designs, colorful costumes, astounding choreography, and even more big surprises as KIDZ BOP raises the bar following a hit comeback run in the previous year. After a brief live tour halt globally brought about by the pandemic, even kids coming back to concert venues, jamming with the crowd to kid-friendly versions of their favorite hits.
"The family-friendly show will feature new songs, choreography, special effects, and the return of the Daddy Dance Off, giving dads the chance to show off their best dance moves on stage," Live Nation shared in a statement. "KIDZ BOP has sold more than 23 million albums and generated over 8 billion streams globally since 2001."
Everyone's invited to the party at KIDZ BOP Never Stop Live Tour. 'The party don't start till you walk in, so better hurry and book the whole family those tickets now!