Veterans United Home Loans Amphitheater | Virginia Beach, Virginia
Rock music's most ferocious rockers have joined forces to hit the road for an extensive touring spree. Korn & Alice In Chains may come from rock's opposite poles, but this time they're sharing the stage one of this year's biggest co-headlining tours. Good news is, their show is just around the neck of the woods. This intense and highly anticipated event will happen at the Veterans United Home Loans Amphitheater on Tuesday 30th July 2019. Secure your spot at the moshpit and book your seats now. Fans from both sides of the fence have been raving about this and will stop at nothing until they get their hands on tickets. Beat 'em so you can join 'em! Buy tickets now!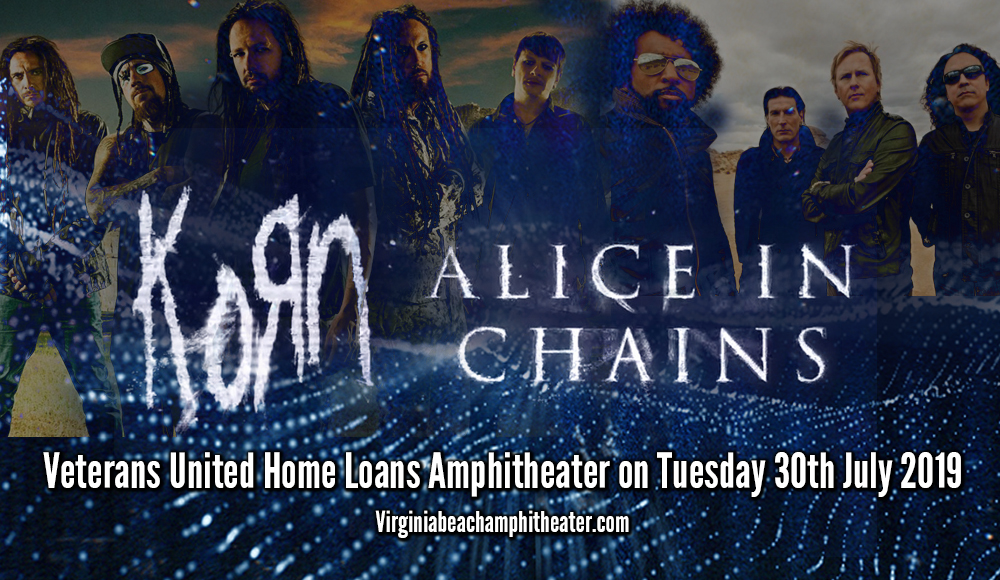 Korn & Alice In Chains. Quite an unusual pairing, actually. But fans are not complaining. In fact, they're raving about these two ferocious beasts who are joining forces for the first time and are about to make an uproariously rock-solid performance. There may be a sharp contrast between Korn's nu-metal sound and Alice In Chains' alt-grunge style, but hell yeah, expect the unexpected. Korn's guitarist Brian "Head" Welch says, "We've got some amazing tricks up our sleeves,…fans are going to be pleasantly surprised."
Korn is regarded as a trailblazing pioneer of the nu metal movement. Korn has four multi-platinum albums to their name, certified best-sellers in many parts of the world. They have released 11 studio albums to date, and have spawned the humongous hit singles "Freak on a Leash," "Did My Time" and "Falling Away from Me", and many more!
Alice In Chains have been classified under 'grunge', but are somewhat the odd man out in this genre because they have a darker, grimmer, and heavier sound compared to their alt-grunge contemporaries. Their multi-platinum and chart-hitting albums have spawned monster hit singles such as "Would?", "Rooster", "Them Bones", "Angry Chair", "Down in a Hole","No Excuses", "I Stay Away", "Hollow", "Stone", and "Voices", and a whole lot more.
Time is ticking, tickets are briskly selling! Beat the clock and seriously book your tickets now!