Veterans United Home Loans Amphitheater | Virginia Beach, Virginia
Chemistry and collaboration. That is the compelling edge of this co-headlining concert, making it a cut above all the rest. Mary J. Blige & Nas — two of rap and RnB's figureheads will truly slay the night with their solid and soulful live performance of their biggest hits. Their full itinerary includes 22 dates and cities. And here's one that's close to where you are. Mary J. Blige & Nas are making their way here for a one-night-only show at the Veterans United Home Loans Amphitheater on Sunday 21st July 2019. This doubly exciting show doubles the demand for tickets. Don't miss it!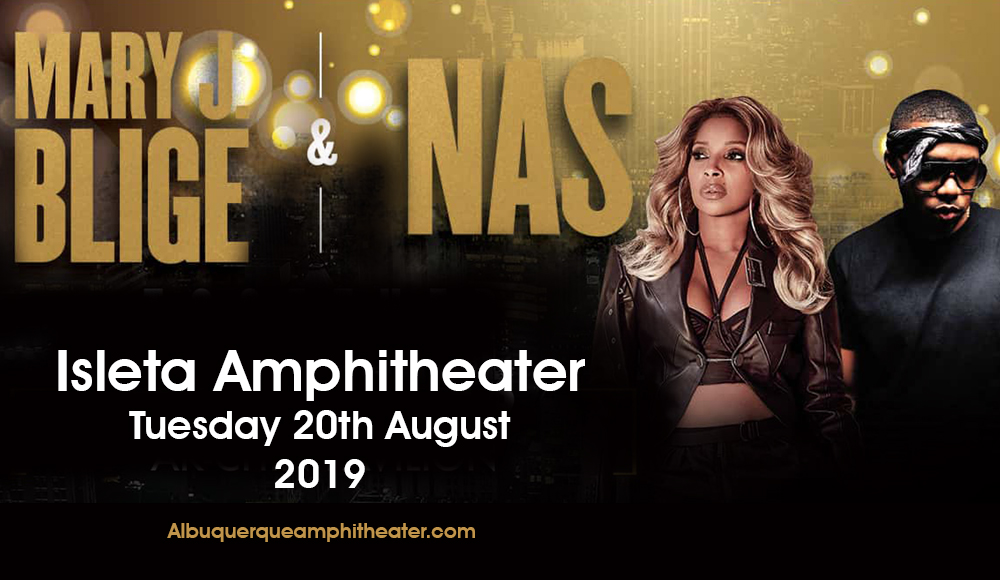 Their collaborative venture in 1997's "Love is All We Need" from Mary J. Blige's third album "Share My World", and another one from "Reach Out" off Nas' 2012 album "Life is Good" prove that these artists indeed have an amazing chemistry. Superstar co-headlining concert line-ups don't always work. It takes chemistry and collaboration to pull it off. Now these are what Mary J. Blige & Nas have. They both are powerhouse performers, and they explode with amazing beats, rhythm, and harmony like no one else can. And that is yet to be enjoyed in their first-ever concert tour, together.
Mary J. Blige's discovery took place at a mall where she sang at a karaoke machine to create her cassette demo which she took around record labels. In no time, she has working on an album with Sean "Puffy" Combs (aka P. Diddy) that sold 3 million copies. Boom! She became a star and after numerous chart toppers, million plus sellers, and over a dozen Grammy Awards, Blige is now hailed as one of the reigning royalties of R&B.
Blige has often referred to Nas a "prophet". "He's always been the person with the message. He's just always been a great person. He's very into what he is doing. He has a lot of integrity and his life shows that," she says.
Indeed, the staying power of Nas is a testament to his artistic credibility, and how fans have supported and listened to his heart and soul all those years, since his 1999 debut album "Illmatic". Eleven albums later, Nas is still at the top of his game. He has been given the moniker 'rap kingpin' as his words and music are not only appreciated by fans, but highly lauded by critics as well.
This is the rap – RnB team to beat. Now time to beat the clock as fans are on double-time scurrying for tickets. Book your tickets now!