Veterans United Home Loans Amphitheater | Virginia Beach, Virginia
Prepare for a head-banging worthy evening in Virginia Beach because Shinedown is coming to town and taking over the stage at the Veterans United Home Loans Amphitheater on Sunday 18th September 2022! The Floridian hard rock band is back on tour this 2022 and is traversing the United States to promote their latest album, Planet Zero. The Planet Zero World Tour includes a fall tour consisting of 23 dates in the United States. Moreover, Shinedown will also be traveling with special guests, rapper Jelly Roll and singer John Harvie! You better get your tickets now if you want to be part of this incredible rock show at the Veterans United Home Loans Amphitheater!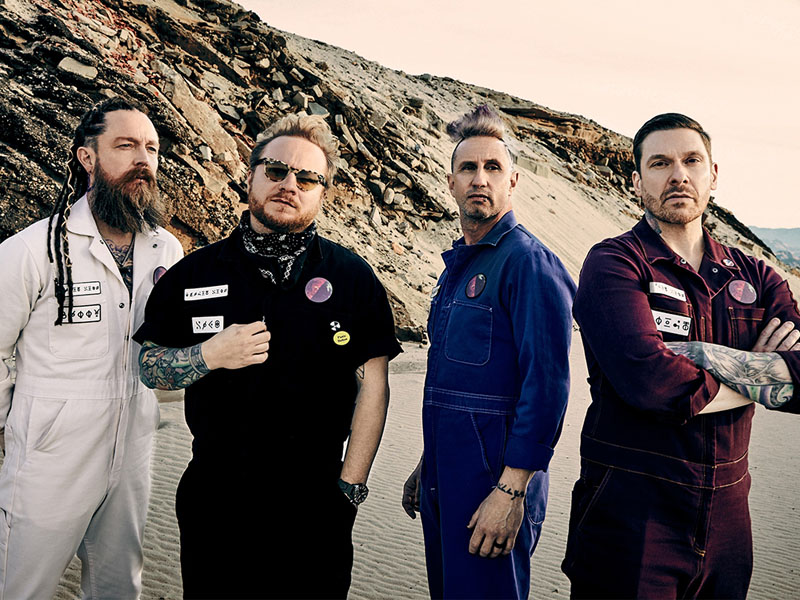 The latest album from Shinedown Planet Zero is a product of the band's time spent during the pandemic lockdown. The album, which frontman Brent Smith described as raw and more stripped-down than their previous works, consists of politicized and social controversy-driven songs. For example, the album's title track, "Planet Zero," questions the government and the authorities. "We're really talking to those forces that divide us — forces in government, forces in media, forces in Big Tech," says Shinedown bassist Eric Bass. "We're saying, 'Is this what you wanted? For us to be at each other's throats?'"
During an interview, Smith mentioned that the themes in the album might be controversial to some. However, beliefs and opinions shared through the tracks' lyrics are based on the band's experience. Despite its controversial nature, the album's title track resonated well with listeners. "Planet Zero" peaked at number 1 on Billboard's Mainstream Rock Airplay chart. Meanwhile, the album, set for release in April 2022, is expected to perform as well as its predecessor, Attention Attention.
The band's sixth studio album, Attention Attention, peaked at number 1 on Billboard's Top Rock Albums, Top Hard Rock Albums, and Top Alternative Albums chart. The record also peaked at number 5 on the Billboard 200. The album is the first body of work to be recorded, produced, and mixed by Eric Bass. "The whole record was different for us; we self-produced it. Eric, who's quite frankly way much more than just a bass player, decided to sit in the captain's chair and be the main producer of the record. He also mixed the album as well. Eric was so clear every day of exactly what the mission statement was for the album and that it made it really, really enjoyable for us," Smith said during an interview with Loudwire.
If you love hard rock, don't miss this incredible event featuring headliner Shinedown and special guests Jelly Roll and John Harvie! Tickets are now available, so hurry up and grab yours now before it's too late!