Veterans United Home Loans Amphitheater | Virginia Beach, Virginia
Whoever said 'punk is dead' must've been lost in time and space. Punk is very much alive and kickin'. In fact, punk music is still spreading madness and mayhem as three of its godfathers are on the loose! Social Distortion, Flogging Molly & The Devil Makes Three will be on the road for a massive tour in various key cities and venues, including this highly anticipated gig at the Veterans United Home Loans Amphitheater on Friday 23rd August 2019. Be there and be part of this unbreakable and unshakable rock movement. Book your tickets now!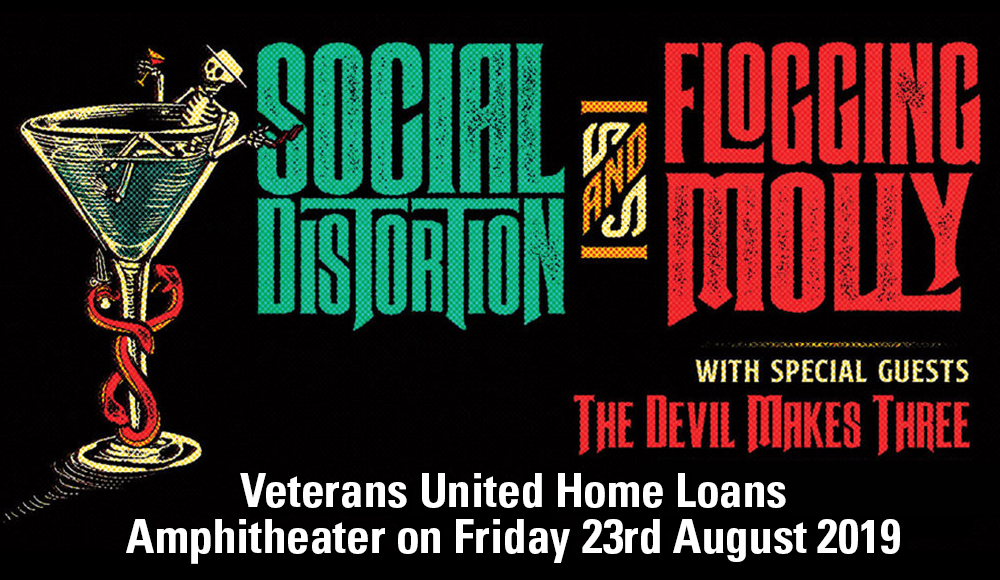 One of the bastions that has kept punk music alive and kickin is Social Distortion. As The Clash and The Sex Pistol's called it quits, they picked-up from where these bands left off and raised the flag of punk rock music. They have been around during the 70 but it was not until the 80s came when the band released their debut album, their first out of two releases within the decade. Their notable singles include "Prison Bound," "Mommy's Little Monster" and "Ball and Chain". After some member changes, hiatus, personal setbacks, and some redirection, Social Distortion are still in the business of making noise and championing the cause of punk music for future generations.
Flogging Molly is a seven-piece Irish-punk band from Los Angeles, California, U.S. They played a unique mix of traditional Celtic music and rock. As founding member Dave King got together with fiddle player Bridget Regan, guitarist Dennis Casey, bassist Nathan Maxwell, drummer George Schwindt, accordion player (and former pro skateboarder) Matt Hensley and mandolinist Bob Schmidt, they found their feet and began playing a fusion of traditional Irish music and often abrasive hard-hitting punk rock. They have Billboard hits to their name and have sold over a million and a half records.
These two godfathers of punk with support from the Devil Makes Three and Le Butcherettes, have joined forces for a rock solid punk tour, noting that 25 years has passed since they shared the bill. "We're excited to be heading out on the road with our friends Flogging Molly this summer," Ness says. "It's been a long time since we've played a show together and the first time since '92 that Social Distortion has done a co-headline tour. It's going to be a lot of fun, and we're all looking forward to it."
Make a shoutout to your punk rock pals and get together and make some noise. This will be one helluva a blast!