Veterans United Home Loans Amphitheater | Virginia Beach, Virginia
Howdie, Virginia Beach country music fans! One of the most highly-anticipated country music festivals in the US is coming your way this fall! Willie Nelson's traveling music fest, Outlaw Music Festival, heads to Veterans United Home Loans Amphitheater this Sunday, September 11, 2022. Get ready for a night of genuine country music from the living legend himself and his resident band. Immerse yourself into the iconic songs of Shotgun Willie, such as "Always on My Mind," "Blue Eyes Crying in the Rain," "Whiskey River," and many, many more. He will be joined on stage by two of the biggest acts in the country music today: Colorado-based country pop-rock band Nathaniel Rateliff And The Night Sweats and the Grammy-award winning bluegrass musician Billy Strings. Get your tickets now and catch these incredible artists with the one and only Willie Nelson!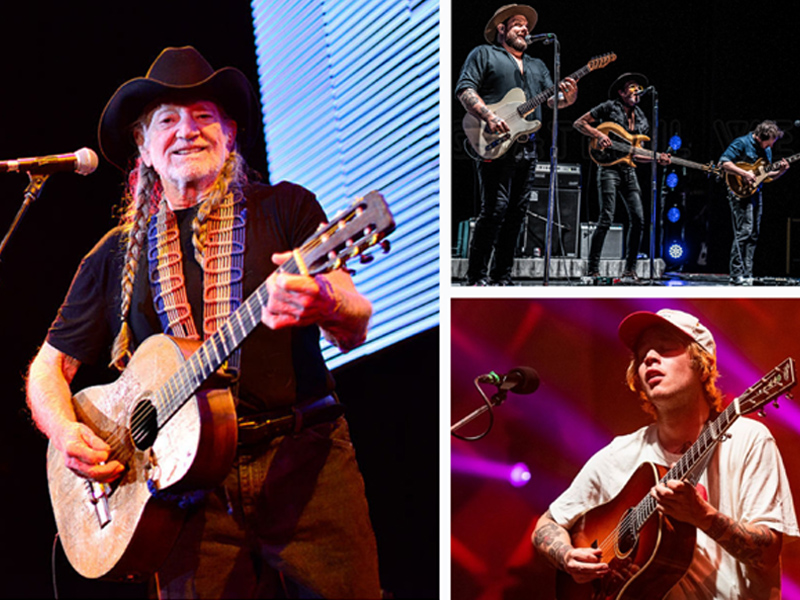 If there is a highly anticipated festival by thousands of Willie Nelson fans all over the nation, it would be the annual Outlaw Music Festival. Who wouldn't be? After all, the touring music fest is where the biggest country music acts convene. Since 2016, the likes of Chris Stapleton, Brothers Osborne, The Avett Brothers, and many other big names in the industry have performed alongside Willie Nelson & Family. This year, the annual music fest is back again with the promise to bring the biggest lineup we've ever seen.
"The Outlaw Music Festival Tour has always been about family and friends coming together for a great day of music and fun, and with the amazing group of artists joining us, this year promises to be our most special Outlaw Tour to date," Nelson said in a statement.
The festival's stop at Virginia Beach's Veterans United Home Loans Amphitheater will highlight the impressive musicality of Shotgun Willie and the signature performances from Nathaniel Rateliff And The Night Sweats & Billy Strings.
Formed in 2015, Nathaniel Rateliff And The Night Sweats is a Colorado-based country pop-rock band comprised of frontman Rateliff and his personal band. Prior to teaming up, Rateliff is a solo artist who found success with his quieter, more introspective folk-based albums. His career surged after the Night Sweats' gritty 2015 debut became a hit across North America and Europe. Their albums "The Future" and "Tearing at the Seams" are deemed by critics and fans as favorite rock and blues albums.
Moreover, Billy Strings is a talented young musician who is considered to be one of today's top artists who trailblazes the industry with his incredible talent. His latest Grammy win for "Best Bluegrass Album" at the 63rd Annual Grammy Awards for his album "Home" is a testament to the immense talent this 29-year-old musician has. He is most famous for his songs "Dust in Baggie," "Meet Me at the Creek," and "Enough to Leave," among several others. Although he is relatively new, he was able to gain a massive following due to his undeniable talent, meaningful songs, and incredible live show performances.
If you want to catch these amazing musicians alongside the living legend Willie Nelson, click on the "Buy Tickets" link to reserve your event passes! See you there.