Veterans United Home Loans Amphitheater | Virginia Beach, Virginia
Picking up from where they left off sometime last year, Tears For Fears are definitely back in business! All roads will lead to the Veterans United Home Loans Amphitheater on the 7th of July, as Tears For Fears embark on The Tipping Point Tour Part II. The release of their first full-fledged studio album in 18 years, brought waves of excitement among TFF's global fandom. Tears For Fears then took their music to the live stage as they kicked off with the initial leg of The Tipping Point Tour last year. As TFF announced that the trek continues in 2023 with 22 cities in their itinerary, fans will stop at nothing to score tickets to The Tipping Point Tour Part II where Tears For Fears vow to deliver nothing but the hits, plus unleash songs from the tour-title album on the live stage. And yes, they're also taking indie-rockers Cold War Kids along for the ride to open up the show. Tears For Fears are fired-up to hit the road, while fans are sure to go on a frenzy as tickets go on sale. Don't miss out on this massive Tears For Fears tour and secure your spot at Veterans United Home Loans Amphitheater on Friday 7th July 2023. Book your tickets now!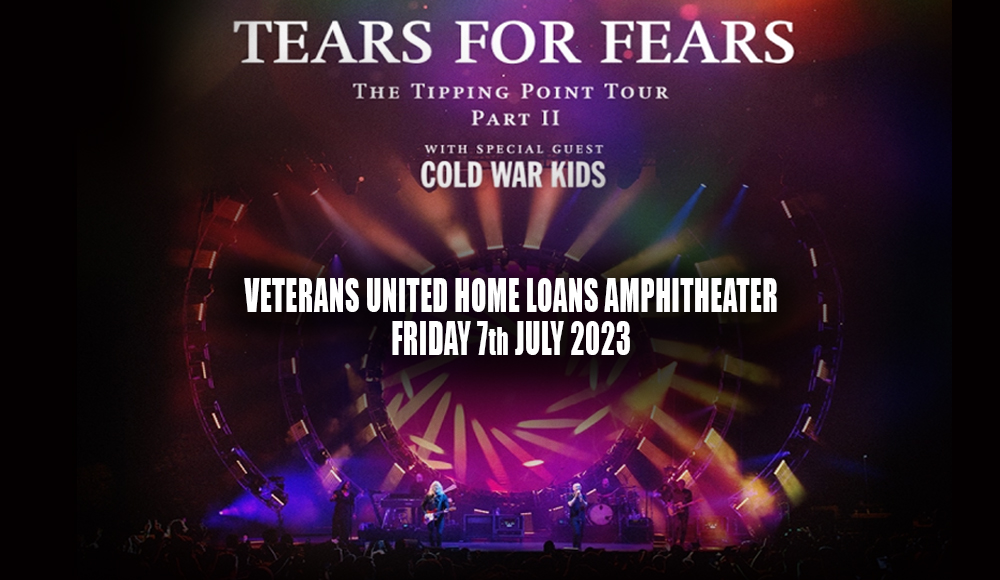 The Tipping Point Tour Part II — Tears For Fears had to really make this happen this year as last year's initial leg was cut short due to Curt Smith suffering from broken ribs from a road accident. After a much-needed rest and recovery, the band is now raring and ready with a whopping itinerary of 22 shows over six weeks, covering various cities in North America.
"We couldn't be more excited to start playing concerts again. We've missed seeing our friends on the road around the world and the energy of performing live," says Tears For Fears' Curt Smith. Roland Orzabal adds, "The Tipping Point has been a long time in the making and we are looking forward to playing our favorites from the new album as well as our classics from throughout the years."
Yes, you read it right! The dynamic duo of the new wave – new romantics era vow to mete out the chart-toppers, the crowd-faves, the shout-and-sing-along hits like "Mad World", "Everybody Wants To Rule The World", "Shout", "Sowing The Seeds of Love", "Pale Shelter", "Head Over Heels", and a whole lot more!
The Tipping Point, as the new album is aptly titled, came about after a series of highs and lows, career-wise and personal-wise. Tears For Fears says that "before everything went so right with this album, everything first had to go wrong. It took years, but something happens when we put our heads together." And yes, it took them 18 years for this album to finally see the light of day; nearly two decades since their last album "Everybody Loves A Happy Ending" was released in 2004. Fresh from receiving high honors at the 2022 Ivor Novello Awards, The Tipping Point was released on February 25, 2022, propelled by the title-track single, with equally riveting powerhouse follow-up singles "No Small Thing", "Break The Man", and "My Demons". The album debuted at number 2 in the UK charts and achieved Top 10 status in various countries, including a significant entry at #8 in the US Billboard 200, and hitting the number spot in US Billboard's Top Alternative Albums, Top Rock Albums and Top Album Sales charts. And as Tears For Fears were rolling with the tour, the re-entry of "Everybody Wants To Rule The World" in the UK Singles Chart and Billboard Global 200, proves that Tears For Fears are still rockin' and ruling the world of music in this day and age.