Veterans United Home Loans Amphitheater | Virginia Beach, Virginia
Blowing their fans one last kiss is America's iconic glam rockers KISS. They say it's for real, this time. KISS is saying goodbye to life on the road and they intend a larger-than-life farewell tour aptly dubbed "One Last Kiss: End Of The Road World Tour". Part of their final trek includes a smashing live performance at the Veterans United Home Loans Amphitheater on Tuesday 13th August 2019. Surely, the KISS army will not let them off the hook that easy. Battalions will definitely march down and will stop at nothing to get their hands on tickets to the show. Don't kiss this historic moment in music goodbye. Think smart and act smart. Go for the easy, hassle-free way of booking your tickets. Just click 'get tickets' button on this page. With that, you'll be there rocking and shaking and giving the band one last kiss!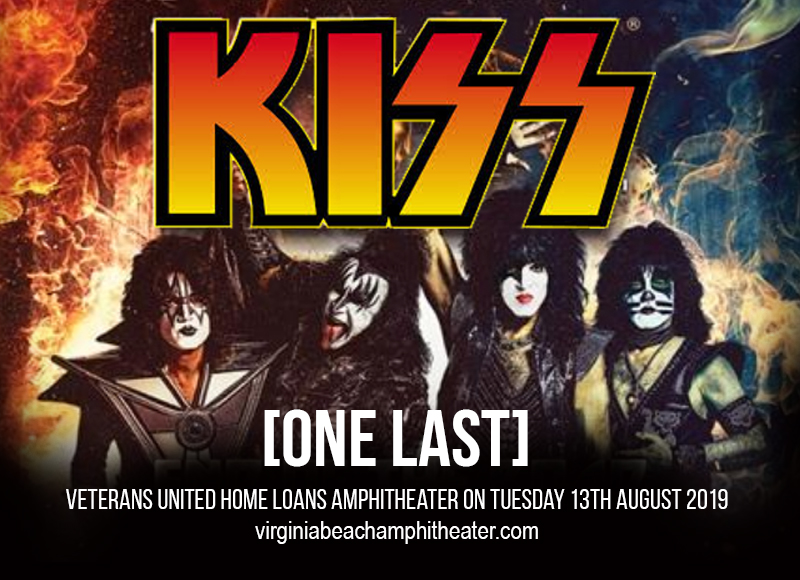 It's official. KISS is embarking on their farewell tour aptly dubbed "One Last Kiss: End Of The Road World Tour".
KISS frontman Paul Stanley is giving fans a hint of things to come… "This is gonna be our last tour. It will be the most explosive, biggest show we've ever done. People who love us, come see us. If you've never seen us, this is the time. This will be the show."
The quintessential KISS make-up. The tongue-flashing gestures. The elaborate kick-ass costumes. The over-the-top stage production. Nothing comes close to the theatrical-like production KISS has pulled-off in their live shows over the years.
Simmons expressed that KISS had "a few more years…We're the hardest-working band in show business. I wear over forty pounds of studs and armor and all that stuff, seven-inch platform heels, spitfire and have to fly through the air and do all that stuff…In hindsight, it would have been smarter to be a U2 or THE [ROLLING] STONES, to wear some sneakers and a t-shirt and you're comfortable. No, we had to do it the hard way."
Yet all these theatrics could not stand on its own without the sheer magic and indelible appeal of their music. Songs like "Beth," "Detroit Rock City," "Forever", "Rock and Roll All Nite," "Shout It Out Loud," "Calling Dr. Love," "Christine Sixteen," "I Was Made for Lovin' You," "Shout It Out Loud," "A World Without Heroes," "Lick It Up," "Forever," and "Never Enough" — all have stood the test of time and are considered enduring rock classics to this day.
KISS' iconic status covers platinum and multi-platinum sellers of a whopping 20 studio albums, seven live albums, and 60 chart-hitting singles.
If all these are still not enough to convince you that KISS has a tremendously rabid fanbase, think again. But don't wait too long as you might just miss and kiss this moment good bye… We all deserve one last KISS, don't we?